Dennis and Jennifer Goldsmith

2873 County Road C

Swanton, OH 43558 419-875-5590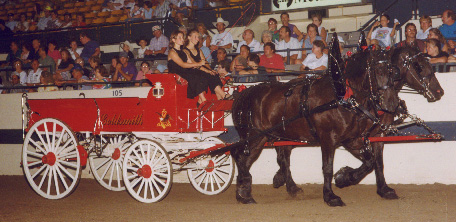 Located in northwest Ohio, Blue Creek Percherons is known for raising quality registered percherons. Our horses are very correct with great feet and legs and their pleasant personalities are easy to get along with. Come see us at the Wood, Hancock, Macomb and Fulton County Fairs. We will also show at the Ohio Expo, Ohio State Fair and a few others if time allows. We normally hitch 4 percherons in our authentic 1894 Budwieser wagon, but will hitch 6 if time and the wife and daughters allow. We have been pulling a hitch in The Great Circus Parade since 1996. Our horses have been very successful in line classes thanks to our girls doing a great job in showmanship. Our herd sire, King Luther, has put great foals on the ground. We are crossing King Luther with mares out of Trophy, Hill Midnight, Joanna's Noble, MG's Black Diamond and La Rick. Check them out! These foals will be for sale. Please feel free to e-mail us any time with questions or comments.